Products>>


Downloads>>


Easy to Use BMS Series

BMS-2000L/H

RLU-2000
---
2). Discharge and Maintenance


Besides the complete monitoring, BMS-2000H/L series can perform the capacity test with a constant current or a constant power, if connected to a load unit (DLU) or a Smart Load Unit (SLU) made by eTocsin.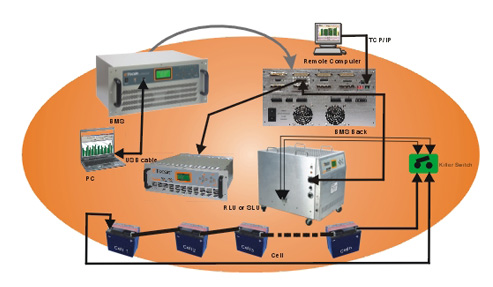 1. Make sure that BMS is working properly.
2. Turn off the power of BMS module, then connect control cable between BMS and DLU or SLU.
3. Connect the load cable to the positive and negative posts of the measured battery, via a circuit breaker (Pay attention to the polarity of battery posts).
4. Turn on the power of BMS module, connect the load cable to DLU, and then turn on the power of DLU.
5. Turn on the computer on site, and link the computer to BMS via a USB cable.
6. Start BMS software, and enter the interface for the capacity test.
7. Set up the test type (constant current or power) and test parameters (warning and end value of overall and cell voltage, discharge current or power, discharge time, and rated discharge time).
8. Start a test.
9. When the end condition is reached (the battery voltage or a cell voltage reaches the end voltage or the discharge time expires), BMS stops the test automatically. The test can also be stopped manually.
10. Use BMS software to generate the test report including the discharge curves.
11. For BMS equipped with a Remote-controlled Load Unit (RLU), if a discharge test is performed on site, the operation starts from step 5 (skip the first four steps). The remote discharge test can be done at any place of the network that BMS is linked to. This operation starts from step 6. You can start the video feed, and complete the discharge test.



---