Products>>


Downloads>>


Easy to Use BMS Series

BMS-2000L/H

RLU-2000
---
1). Complete Monitoring


The Battery Monitoring System (BMS-2000H/L series) is a multi-function monitoring system to completely monitor all performance parameters and operating parameters of the battery. Its major function is to measure the battery internal resistance, using Single Large Current Discharge Method.
BMS-2000H/L has many options and many models to fit the different configuration of batteries.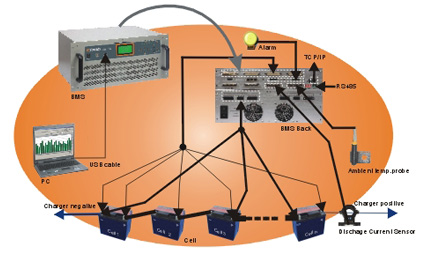 1. Choose a place to install the BMS module, which should be close to the battery.
2. Install the BMS module, and then connect the power cord and network cable.
3. Follow the requirements in the user's manual to connect the voltage test cables and load cables for internal resistance test.
4. Connect the ambient temperature sensor and discharge current sensor (optional).
5. Connect the voltage and other parameter test cables to BMS module,
6. Connect the load cable for internal resistance test to BMS module.
7. Connect the network cable and power cord (220V/50Hz).
8. Connect BMS module to a computer via a USB cable, and turn on the BMS power.
9. Turn on the computer, run BMS software, and follow the system requirements to set up BMS module.
10. Reboot BMS module (Turn off the power and then turn back on). BMS starts monitoring. On site, the battery status can be checked on the BMS screen, or on the computer linked to BMS via a USB port.



---