Products>>


Downloads>>


Easy to Use CMS Series

CMS-2000
---
Cell Maintenance System (CMS) is a discharging and recharging system for separate cells. Thedischarge is carried on with a constant current, by adjusting the load resistance. The best charger (FlatPAC) made by Vicor is used for recharging. CMS can simultaneously discharge or recharge up to 3 cells online, and has double protections for over-voltage, over-current, overheat and reversed polarity. Besides diagnostic and calibration functions, CMS can also program all parameters of a test, such as Cell Voltage, Discharge / Recharge Current, Discharge/Recharge Time and Rated Time. During a discharge or recharge, all data and statuses are displayed in real time. The user-friendly interface and the simple style of display screens and keys make CMS easy to operate.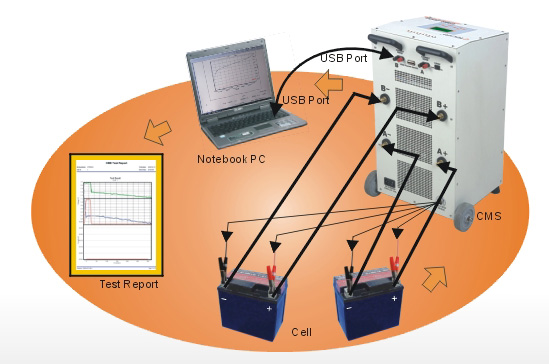 1. Connect Voltage Cables to the posts of the measured cells. The CMS shown here can be connected to two cells.
2. Turn on the power switch, and then setup the test type (capacity test or multiple sections) and the test parameters (Discharge/Recharge Time, Current, Rated Time, etc.).
3. Connect Load Cables to the measured cells.
4. Start a test.
5. CMS monitors all parameters and statuses, which can be viewed on multiple screens selected by keys.
6. When the end condition (voltage or time) is reached, the test is stopped automatically.
7. Download the data from CMS to a PC, and then generate the test report including the discharge and recharge curves.
8. If needed, connect a PC with CMS in a test. Then the dischargeand recharge curves, all data, and statuses are shown on the PC screen in real time (Only available after version 2.00).



---