Products>>


Downloads>>


Easy to Use SLU Series CTS-2000D/CTS-2000A/RLU-200
---
CTS-2000D is a battery capacity test system that adjusts the load resistance to keep the current
or power constant during the test. Its control unit is separated from the lead unit (DLU).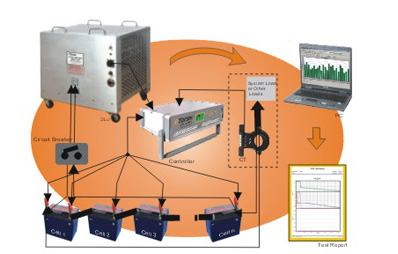 1. Connect battery voltage test cables to the positive and negative posts of the measured battery.
Following the labeled numbers, connect cell voltage test cables to the posts of all cells.
2. Turn on the CTS power switch, and then set up the test type (constant current or power) and the
test parameters (End Value of Battery and Cell Voltage, Discharge Current or Power, Discharge
Time, etc.). The setup can be done by using the keys on CTS, or by a computer via the USB link.
3. If using the load unit (DLU) made by eTocsin, connect Load Cable to the positive and negative
posts of the measured battery, via a circuit breaker. Then, connect Load Cable to DLU.
4. If using the system load or other load, must use a current transducer (CT). Put CT on the cable
where the discharge current can be measured, and connect the output of CT to CTS controller.
In this case, CTS cannot perform the constant current or power control.
5. On the LCD or a computer, check the battery voltage and all cell voltages to ensure a good
connection of all test cables.
6. Start a test.
7. When the battery voltage or a cell voltage reaches the end voltage or the discharge time expires,
CTS stops the test automatically. The test can also be stopped manually.
8. Download the data from CTS to a USB flash drive or a PC, and then generate the test report
including the discharge curves.



---