Products>>


Downloads>>


Easy to Use SBM Series

SBM-3000/SBM-2000/SBM-1500
---
2. Micro-ohmmeter (If select the micro-ohmmeter accessory, SBM-MICRO OHM, as an option, SBM can have the micro-ohmmeter feature)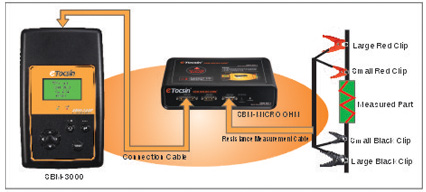 1.Following the cable connection diagram, link SBM with micro-ohmmeter accessory.
2. As shown as the above figure, connect the clips of the resistance measurement
cable on the measured part (switch, contactor, relay or circuit breaker).
3. Press UP or DOWN key on SBM to enter the micro-ohmmeter screen on the LCD of SBM.
4. Press TEST key to start a test. After the test is completed, the data is displayed on the LCD.
The battery in SBM-MICRO OHM can be used at least 300 times without recharging. When SBM shows the low voltage, you must recharge the battery. The recharge takes 6-8 hours. If you want to store this accessory (not in use), you need to recharge it more than 10 hours.





---