Products>>


Downloads>>


Easy to Use SBM Series

SBM-3000/SBM-2000/SBM-1500
---
1. Internal Resistance and Intercell Resistance (Voltage Drop)

The special probe used in the resistance test of SBM series is a three-wire cable with a power connector (SBM-1000 and SBM-1500 use a two-wire cable). It has two thick wires linked to a red clip and a black clip respectively, and has a thin wire linked to a red/black (half-red-half-black) clip (SBM-2000 or later series). For testing, the red clip is connected to the positive post of the measured cell, the red/black clip (For SBM-1000 and SBM-1500, use the black clip) is connected to the negative post of the measured cell, and the black clip is connected to the positive post of the next cell.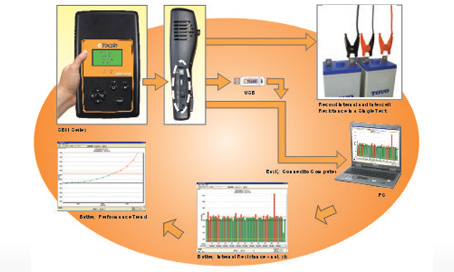 1. SBM automatically determines the measuring range when measuring the cell voltage.
2. The discharge current from the measured cell is 12 A~70 Amps, which is automatically determined by SBM.
3. During the discharge (lasts a few seconds), SBM measures the current and the cell voltage just before and after the load is turned off, and then calculates the internal and intercell resistance.
4. After testing, by using a USB flash drive or a USB cable to connect SBM to a computer, the user can run the provided analysis software to download data and generate the reports including the bar graph and trend curve of the voltage, resistance and estimated capacity.




---